Not again...
It appears they are at it again. First a journalist, then a communications worker, then a helicopter tech, then a foreign national.
Now they have captured and are threatening a Marine. A young Marine. I don't know uniforms or insignia so I have no clue about that, but from the grainy pic you can't tell much anyway.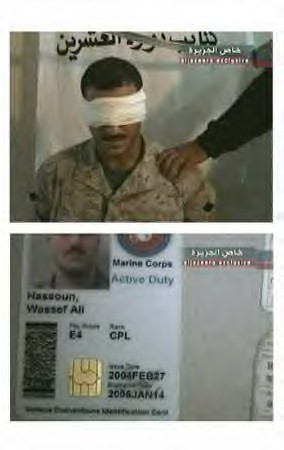 From the look of the ID from the screen save from Al Jazeera, he's the real deal.
According to CNN:
A speaker on the tape said the man was lured from his base and captured. Al-Jazeera said the group threatened to kill the man unless U.S. military authorities release Iraqi prisoners.

The video also showed Marine identification papers. CNN is not releasing the man's name until his family has been notified.
Not doing a very good job of it. His name is clearly visible in the photo, Cpl. Wassef Ali Hassoun, if I am reading this correctly.
Keep him and his family in your prayers.
______________________________________
And just because The Press has continually showed their collective asses in the handling and dissemination of information they either gather or have presented to them on platters, this piece from Korea Times.
Can you blame them for being upset? Was Kim Sun Il interviewed while a captive by the AP? Did they know what was happening, but chose to hold the tape until it was "big news"?
The media sickens me more and more every day. Let's hope that they haven't done the same crappy thing with information surrounding the current hostages.
Posted by Mamamontezz at
05:42 PM
|
Comments (5)