Bikers Give Respect
Rolling Thunder. What an understatement that has to be. Just imagine the roar of all those bikes as they pulled into the White House drive. I bet it makes the hair on the backs of a person's arms raise right up.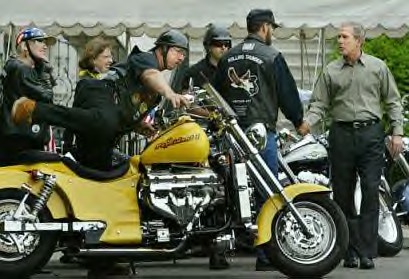 But as awesome as the trip to meet the president must have been, that was not the reason for the trip. It never has been, not in the 17 years that Rolling Thunder has existed.
They were there to give their respect and their thanks for fallen brothers in arms. They were there for the memories of those who passed before them.
HUA, Rolling Thunder. God Bless.
Posted by Mamamontezz at June 1, 2004 11:32 AM