She's off my Christmas list.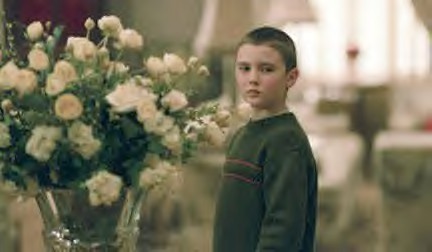 Tell me this is just some faked-up publicity stunt to sell advance tickets with controversy.
Nicole Kidman, naked, in a bathtub with a 10 year old boy, making out. Liplock and Oral Appendectomy. With a minor. Not just a regular, run of the mill, teen-aged minor. A 10 year old.
The movie is called Birth, and a release date hasn't been announced yet. I'd bet it's tentatively scheduled for that Christmas Season rush to make Oscar eligibility. Yep, all the kids are on vacation, hanging at the mall, and watching Nicole Kidman in a sex scene with a child.
Where were his parents? Who signed that Permission Slip?
We give permission for our son, (name)__________________, to participate in gratuitous nude scenes with Nicole Kidman, and to have his toncils swabbed with her tongue as many times as is necessary to get the footage the director requires. We also allow the director to place him in scenes which constitute nothing less than soft-core pedophile porn as long as it advances the plot of this film, Birth.

Signed, _________________________date_________
And don't give me "We did it for Art" crap, either. You did it for money. You prostituted your child for money. No, not much money now, because there are laws protecting his funds. But Things and Events and Social Status, like damned near every other stage parent I've ever encountered.
Where's CPS in a case like this? Probably logged into Moviephone to get advance tickets. Or will his parents be sending comps?
Just an update: Seems the press has begun to pick up on this, and the studio is playing a "maybe, maybe not" game.
Posted by Mamamontezz at June 14, 2004 02:00 PM