D-Day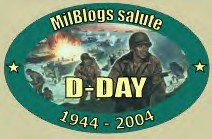 Update: The list of posters in Blackfive's D-Day blogging project has grown substantially. These posts are touching, enlightening, and informative, and each and every one honors those who are fallen and whose dwindling few who remain. Take the time to read these wonderful works by the best of the blogosphere. I am humbled in their presence, and honored to be included in even this small way by people who's service overshadows anything I have done in my life.
Red Surf
Red flows the water
that caresses Utah beach,
bringing gifts of sacrifice
with every touch.
It murmurs gentle sighs
into ears which do not hear
the sharp retort and whine
of hostile missiles.
The tears of God
swell up and lift each man
to rest upon the shore,
each in turn.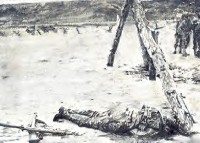 His mercies are not sweet
to the abbreviated men
cradled in the arms
of the reddening sea,
or nestled in the sand
stained with their life.
Some cry out to their NCOs
seeking their strength.
Others plead for their mothers
to ease their fear and pain.
Some seek their wives and lovers
for the comfort of a final touch
a final word,
a final kiss
goodbye.
Youth, no longer tender,
take stock of their brothers,
and move on
in their stead,
blooded,
grizzled,
scarred,
veterans at 19 years old.
Free men fight
to free a land
which holds no claim
to their loyalties.
Free man struggle
to free a people
languishing in fear,
in bigotry,
in hatred,
in hunger,
in the darkness of evil.
Red flows the water
that flows to Utah beach,
bringing gifts of sacrifice
with every touch.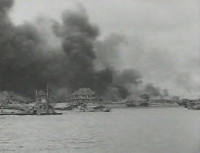 *******************************************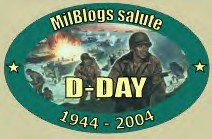 Our heartfelt thanks to the men who approached the beaches of Normandy in LST's, on ships of war, in gliders and bombers, and offered their skills and their lives and their honor to the world.
God rest the souls of all the heroes who passed that day and since.
Please take the time and go to Blackfive for links to wonderful posts honoring the fallen and the survivors of D-Day, all of them heroes.
Posted by Mamamontezz at June 6, 2004 11:59 PM