Yum
One of the best things about the Christmas Season? Hickory Farms Beef Stick.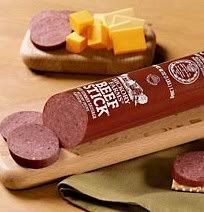 I mean to tell you, that greasy flavorful hunk of cured meat and preservatives is the highlight of December for this chick. As a matter of fact, I have one right here now, sitting next to the mousepad, with a sharp lockback knife shoved into it for convenience and snacking pleasure.
Mmmm. I sure do love'em.





Posted by Mamamontezz at December 16, 2004 11:15 PM