Jack's Link
Jack sent this one with no additional comment, so I will add my own to this one.
Mark Styne, columnist for the Chicago Sun Times and for Britains Telegraph Group, has a piece in today's Australian about the masacre of 350 (at this time) children in a school in Beslan.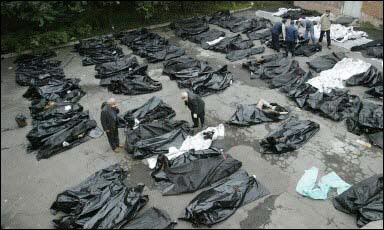 No Word For It But Slaughter says in plain and brutal language what must be said. Mr. Styne says it so well, there is nothing I can add, nor can I cherry-pick a quote that adequately sums up the item. It bears reading in it's entirety. It also bears being posted in as many places as possible.
Jack, this is an amazing piece. Thank you for sending me this link. And the rest of you? Get reading.




Posted by Mamamontezz at September 5, 2004 07:24 PM