What a nice day.
Talk about a nice day. Went to Mooresville, IN and had a wonderful dinner at Gray's Brothers Cafeteria, a place that Steve H would love. Chicken fried the way it was intended by nature: in lard. Amazing home made pies. Good eats all the way around, and really nice servers with coffee and soft drinks before you even realize your cup/glass is empty.
On the way home we did a bad thing, however. I pulled into the parking lot at Bradis Firearms. Always a mistake. You'd think I'd learn. I cannot leave that place without buying something. So far, on different trips, Spousal Unit and I have purchased my Mossberg model 500 home protection .410 shotgun, his Mosin-Nagent Soviet 7.62x.54 carbine, my Mosin-Nagent Soviet 7.62x.54 long rifle, scads of ammo, and various cases.
And today was no exception. Today, I was just looking. Really. I was looking at a gorgeous Yugoslavian SKS, unissued, pristine condition, still in the cosmoline goopey shit for $169, and there, hidding in the big honking macho military guns was this pretty little rifle. So being a girlie girl and liking cute little things tucked in amongst the big honking things, I picked it up.
Another major mistake. Marlin .22LR, "Glenfield" model 60, self-loading tubular magazine. Lists for $189 new. $89. Yes. $89 for her, and she's beautiful. The ones on the Marlin site new don't have the laser engraved embellishments on the stock. So I carried her around for a while, just to see if she spoke to me (which she did), and walked to the counter and bought her.
Oh, and a box of ammo. Can't have a new gun without new ammo. Didn't matter that I have a box in my bedroom at home of the same stuff for my Ruger .22LR Mark II handgun. No. Had to be new just for the rifle. Shoot, like they can tell, right? Leave it to me to anthropomorphize my weapons.
Well, what to do with the rest of the evening... Don't want to go home, nothing going there but the computer. Don't want to go shopping. I've already done my shopping... Sounds like Range-Time to me!
So off we head. Spousal Unit a prisoner in the bucket seat to my right, my new rifle laid securely behind the front seat, we take off to PopGuns, home of the nicest indoor range in town. And lo and behold, they will let me have range time with the rifle. Can't shoot the Mosin-Nagents in there: too big. But the Marlin? Just right.
Plop down the ID, pick up 150 rounds and a set of muffs for Spousal Unit, and off we go into the range.
I don't want to brag (ha!), but for someone who's never fired a rifle of any sort, I didn't do too bad. This is 10 rounds at 12', 10 at 20', 10 at 30' and 20 at 50' and nothing outside the 9 ring. Can't scan in the entire target, but here's the business section with a pencil for scale.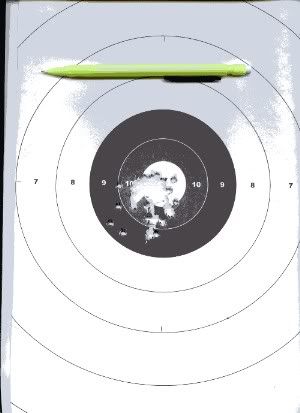 Not bad for an amateur with cokebottle glasses. I wanted to use the NRA targets that all the guys are using for their little Postal Match competition at Neanderpundit just to see how I measured up, but I couldn't find any. I figured a big place like PopGuns would have them. There weren't any out on racks, but I guess I could have asked. But considering I had never fired this rifle, I don't think I did too bad. >





Posted by Mamamontezz at August 6, 2004 11:12 PM