Here's a Hero for you.
Cpl. Tony Stevens, USMC, is a hero you'll probably never hear about unless you're one of those crazed baseball fans who tracks stats down to the minor league level.
Yes, baseball stats.
You see, Cpl. Stevens was a member of the Minnesota Twins minor league farm club, the New Britain Rock Cats in 2001 when the WTC was attacked. And like Pat Tilman, he answered both a national and personal call to duty, joining the Marines. Since then, according to the Republican-American from Waterbury, CT, he "was there during the assault on Baghdad. He was involved in a firefight in "Ambush Alley" that has been called the bloodiest American military engagement since Vietnam. On his second tour he was in a place called the "triangle of death" south of Baghdad."
Because the Republican-American news site doesn't have separate links for individual articles, I have it posted in its entirety in the extended post.
New Britian is proud of him. They're so proud of him, they honored him before the game last night and had Tony Stevens bobblehead dolls for the people in attendance.
We should all be proud of him. So, why isn't this in the NYSlimes or Newsbleak? Is it because he's still alive? Because he hasn't been accused of some Human Rights crime? Because he hasn't keyed cars in protest, like that moronic Air Force Reservist did in Colorado?
Cpl. Stevens returns to Iraq in November for a third tour. Keep him in your hearts and be ready to wear a Rock Cats ball cap next spring.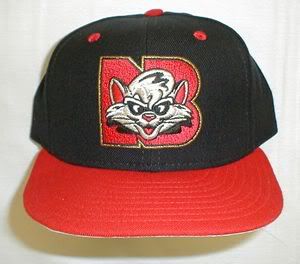 Minor leaguer now major player for America
Thursday, August 11, 2005
Copyright © 2005 Republican-American
He went from patrolling shortstop at New Britain Stadium to charging up Ambush Alley on the road to Iraq.
He went from ducking high, tight fastballs tossed by Eastern League pitchers to hunkering down in a fighting hole as mortars flew over his head. He went from a dugout on the sidelines to a bunker on the firing line.
He went from being a ballplayer to an American hero.
Tony Stevens, a former professional baseball player in the Minnesota Twins minor league system who spent one season with the New Britain Rock Cats, quit the game and went to war. Days after the Sept. 11 attack on America, Stevens made a decision. He turned in his baseball bat for a grenade launcher.
He joined the Marines, fought in the battle of Baghdad, and has now served two tours of duty in Iraq. He's been in the line of fire for a total of 14 months. In November he goes back again.
Wednesday night the Rock Cats brought Cpl. Stevens back to New Britain. They handed out 1,200 Tony Stevens bobble head dolls. Wednesday was declared Tony Stevens Day by Gov. M. Jodi Rell. He was brought in from left field riding a golf cart. They waved flags, they rose to their feet and cheered, and the modest Stevens, a Florida native, hardly knew what to make of it all.
He was there during the assault on Baghdad. He was involved in a firefight in "Ambush Alley" that has been called the bloodiest American military engagement since Vietnam. On his second tour he was in a place called the "triangle of death" south of Baghdad.

In November he goes back. Tony, why?
"There was a lot of history with the military in the family," Stevens said. "It's what I wanted to do. The country has a job to do, and I wanted to do it as a Marine."
But Wednesday, Tony Stevens, 26, was a ballplayer again. He put on a Rock Cats uniform. He took ground balls at short for the first time since his 2001 season. He took his whacks in the batting cage while the Marine Corps Hymn was blasting through the stadium sound system.
His skills were obvious. You could see this guy was a pro ball player once, and yet his bearing was all military. He didn't stand straight, he stood at attention. He wore his baseball cap military style, riding up in the back with the bill riding low, hooding his eyes.
In 2001 he hit just .171, your classic middle infielder who throws a lot of leather. He didn't lead the league in any offensive category. But Stevens, all 5 feet, 10 inches and 170 pounds of him, leads the U.S. military in a dreadful category: roadside bombings. Stevens has been through 11 roadside attacks in 14 months. He's seen 30 Marines die, three of them close friends.
"I haven't been injured," he said. "Just dinged up a bit."
Stevens said there isn't time to grieve in a war zone. "It puts a lot of things in your life into perspective," he said.
He also said the word hero is not in his vocabulary. "We're just doing our jobs."
Stevens isn't a name as recognizable as Pat Tillman, another former professional athlete who went off to war. The former Arizona Cardinal football player turned down a multi-year, multi-million dollar contract. Instead, Tillman joined the Army Rangers and lost his life in Afghanistan in April 2004.
Stevens doesn't think about that. He won't discuss U.S. policy in the Middle East, saying only those decision are made by people "on a higher pay scale."
Some guys from that 2001 Rock Cats season kept playing the game. Justin Morneau, Lew Ford, Mike Cuddyer, even David Ortiz, are now in the Major Leagues. Stevens is in the Bigs too, but he wears fatigues and a flak jacket.
"I have no regrets," he said. "When I am in a fight hole in Iraq I'm not thinking that I could be playing a ball game tonight. It is a big job there, and I just have a small part in it."
When he turns in his military uniform he plans to try on a baseball uniform again. Right now he's the property of both the U.S. Marine Corps and the Minnesota Twins.
He has a one fan in Rock Cats manager Stan Cliburn. He thinks Stevens still has a shot at this game, "Especially the way he was hitting the ball in batting practice. He didn't hit it that far before.
"Everyone has the aspiration to be a professional athlete, but he is serving his country and you have to respect that. In my eyes there are a lot of heroes -- Reggie Jackson, Mickey Mantle, Babe Ruth, Paul Molitor -- but when I look at Tony Stevens, I say there is a real hero right there."
Joe Palladino is a Republican-American staff writer. He can be e-mailed at jpalladinorep-am.com.
Posted by Mamamontezz at August 11, 2005 04:01 PM | TrackBack