Ah, soft breezes through organdy dresses...
Oh, with the first day of summer it was time to pull out the white, organdy dress and the kidskin flats. Is anything cooler in the summer than a crisply clean and pressed sheer cotton frock? Not to mention the severe and wonderful sensations of being bound snuggly in that lovely corset... Ah, but I digress.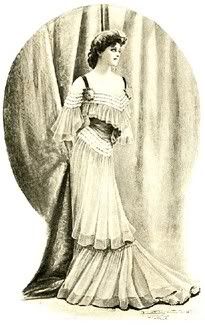 Ah, and who will be our hostesses this week? Well, I have it on good authority that inspite of her breeding, manners and gentility, Sadie was seen in the company of several unsavories on a quest to procure a supply of genuine Chatham Artillery Punch for this week's soiree. Crystal has the pit dug, the coals lit, and poor Durbin the pig trussed like, well, like a pig for our feasting and luau pleasure. And charparoning this week as well as joining in hostessing is Tammy, who doubtless has thing so impecably organized that it will run itself.
Please, corsets and petticoats are not de rigeur, as it is now summer and not all of you frail flowers of womanhood have the constitution for them. For the rest of us, however, they are more then a foundation. They're a fashion statement.

Posted by Mamamontezz at June 21, 2005 08:38 PM