GGMR Disorder
Yes, we have a new addition to the Montezz Menagerie.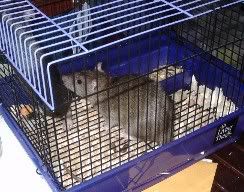 Ain't she cute? This is Beth, named in honor of Beth from Yeah,Righ,Whatever. the human version is wonderful, but this little rodent one's pretty darned cute too.
And not to worry. That's not the permanant abode. I just have to do the "Bathtub Rat Social" to introduce everyone and let the Old Timers get aquainted with the New Kids while the big cage is cleaned out and made ready. This is just for overnight.





Posted by Mamamontezz at March 2, 2005 11:07 PM