Red Hats?
If I ever go out and buy a purple dress and a red hat, someone please do an intervention. Be cruel to be kind. Take me into the back yard, pour gasoline on them, and make me strike the match.
This whole thing bunch of cackling hens is just one more reason why I prefer the company of men and independent women to most other women. Sure, you can accuse bloggers of "group think" but damn, what else can you call women who apparently are so unsure of their own fashion sense that they feel the need to dress in a freaking "Uniform" for crying out loud.
Give me my jeans and clogs any day. And if I feel the need to wear a hat, I'll wear a boonie.
Update: Seems we have located a photo of the Jacksonville, FL chapter in their Sunday Finest. Too many Mimosas or Bloody Marys at brunch, it looks to me. Who knew they wore purple undies with their purple dresses? Hope their elderly, pussy-whipped husbands have their clothes.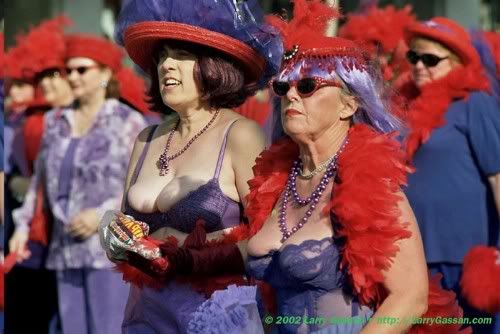 Posted by Mamamontezz at January 2, 2005 02:55 PM