My Soldier
Manhattanville College has begun a program to match pen pals to enlisted personnel called the "My Soldier" program.
The program was created by Juan Salas, an active U.S. Army Sergeant who also is a Manhattanville student. Salas, a naturalized US citizen originally from Venezuela, served for almost two years in Iraq, where he saw active combat duty and was commended for his part in saving the life of a child. Though the experience changed his life, today Salas is back home on campus, playing soccer and going to classes. For Salas, the My Soldier program is a way to give something to his fellow soldiers who are still in Iraq.
I was watching Fox News tonight after copious gastronomical delights, and they interviewed Sgt. Salas and the president of Manhattanville college, Richard A. Berman. They were very enthusiastic about their program, and this enthusiasm was infectous.
Follow the link above and read about this great outreach on the Manhattanville College web page. And if you have the time in your lives and the place in your heart for participating, please do so. As Sgt. Salas said, nothing feels as good as a letter from home in your hands. The letters are read and re-read, passed from one friend to the next, and are a real morale booster for those who genuinely need it.
And if you, too, are a blogger, spread the word to your readers. The more the merrier. Small Town Vet is already on the bandwagon. And Jack at Conservative Insurgent is on board as well. Join the party. There's plenty of room for all.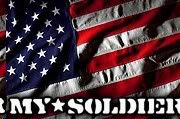 Posted by Mamamontezz at November 25, 2004 11:27 PM