Semper Fi and Happy Birthday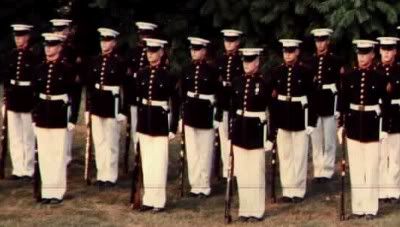 Congratulations, Marines, for a job well done each and every time. I have a special place in my heart for the Marine Corps, even though I was an Air Force Brat. When I was in high school, it was the Marines who looked at my records, my scores, my background, and my aptitude tests and regularly contacted me by mail and eventually by phone. It was the Marines I truly wanted to join, but my physical condition and poor eyesight prevented me from ever being able to raise my right hand, take that oath, train my ass off, and wear that uniform.
I've always regretted that I was just too big and too poorly conditioned to ever consider military service. I double that regret that I couldn't be a Marine.
Happy Birthday to the Corps, and Semper Fi to all of the men and women who serve under her banner. Hoo-rah!





Posted by Mamamontezz at November 10, 2004 05:01 PM