Just a little favor?
The progeny of this marriage, little Anna Emily, turns 10 years old on November 5th. It's a biggie for her, as she believes and will argue to a fine point that this means she is no longer a kid, but a "pre-teen" and darned near an adult. (I've got news for her, but that's another story!)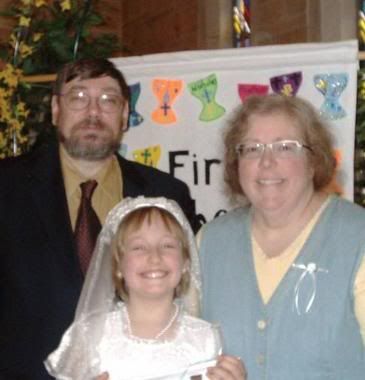 Anna, Delftsman, and Mamamontezz
So I'd like to make a modest request of our readers. It won't cost you much more than a little time and a stamp. We would like you to pick up an inexpensive birthday card or write her a little birthday note, address it to her, and mail it. It can be anything, just something with an out of state address and a "Happy Birthday" on it. She's not going to be getting a lot this year, so we are hoping a plethora of mail will off-set any disappointment. Kids get pretty excited about birthdays, and I hate to see her disappointed.
If you'd like to make her birthday special, please let us know in the comments here that you are willing to mail her a birthday card. We'll email you back with our snailmail address.
Thank you in advance for your kindness. You have all been very kind and supportive to us during these last few difficult months, and I hate to ask for this, but it's something small that would mean a lot to a little girl. None of this has been her fault.





Posted by Mamamontezz at October 28, 2004 05:20 PM