Rampaging Jeanne.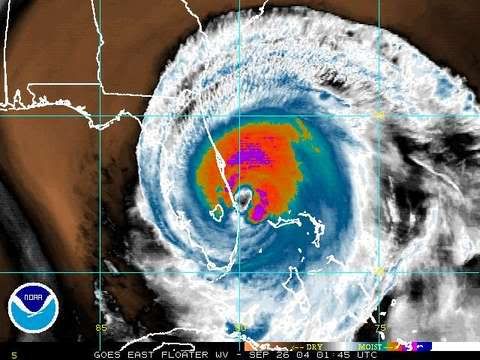 Jeanne looks to be a heartless bitch, doesn't she? I feel for all of you down there in her path. She looks like the kind of woman who takes no prisoners and gives no quarter.
Compared to this, we midwesterners have life pretty darned easy. Sure, we get an occasional tornado which takes out a swath about a mile wide in a really bad one, maybe a few miles long. But then it's over. They're a flash in the pan compared to the destruction that one of these can dish out over several hours.
You're in my thoughts, guys. BC, LTL, V-man, Acidman (you're not escaping this one, Sugar), Catfish (glad you're not on the saltmarsh yet), Dax, Eric, all of you, take care.
Update:
From BC in Tampa we get this: Mama, could you let all the LC's know that I'm w/o power and we have no idea when we'll get it back on? We made it through Jeanne with no real damage, but power went out at 9:20 a.m. I'm at my brother's house to shower and have dinner, then heading back to take care of the house.
Gotta run. Hugs from Soggy Florida.




Posted by Mamamontezz at September 25, 2004 09:27 PM