A What? $34 Burger?
Once upon a time, in the time of my stint in local community theatre in downtown Indianapolis, there was a little burger joint on Meridian Street next door to Tomorrows, my favorite alternative lifestyle neighborhood pub.
Henry's Gourmet Hamburgers was an itty bitty place where you could design your own burger, crunch your way though waffle-fries with malt vinegar, and drink a tall, cool, carbonated beverage for less than $10 any day of the week. Big, thick, hand-formed halfpound burgers, rare to well done, a multitude of different rolls or buns, and a huge list of things you could add to your burger.
This place only lasted a couple of years, but I and my friends were there all the time, especially when in rehersal for one show or another, legit or "drag", at the theatre or at Talbot Street. And the feisty old broad who ran the place was cool with everyone who came in.
But a $34 burger? Insane. And in Canada no less? Trendy Vancouver, I see.
And what do you get for a $34 burger? House-made cheese bun, five ounces of ground flank steak, two ounces of foie gras, two ounces of a mixture of short-rib meat and portobello and oyster mushrooms, truffle aioli, tomato and shallot fondue, along with gaufrette potatoes (waffle-cut) and tempura Cipollini onion rings.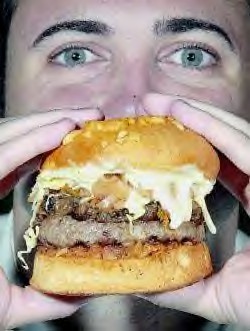 It's not even a half pound burger. And it's in Canada. Isn't that the place where that serial killer was grinding his victims into the sausage he was selling? Just curious.
Anyway, just for persepctive, my Henry burger on its own was less than $5. It was a half-pound. I always had mine on a bun covered with little sweet onion shreds baked into the crust. Medium Rare. Topped with either tahini or peanut butter (don't knock it till you've tried it) and a thick slice of provolone cheese. Add a mix of hot stone-ground mustard and real mayo to the bottom bun. Top the burger with fresh mushroom slices, wafer-thin fresh cucumber slices, shaved red onion, a drizzle of balsmic vinegrette, and a handful of really fresh alfalfa sprouts. Maybe a couple of tender fresh spinach leaves if you felt like it. It's not like she didn't have them there, waiting for your order.
No Fois gras. Too fatty, too strong, don't like it. And no truffle, either. But I bet if I had asked, she would probably have added Truffle Oil to her list of available condiments. "Mrs. Henry" was that way. You wanted something all you had to do was ask and she'd likely as not have it the next time you came in. And she'd let you know she had it the minute you walked in the door, too.
Did I say she made her own cole slaw too? Toss some of that on a burger, too, if you liked that sort of thing.
Damned awesome burger. And back in the Regan era when I was going there, that burger was only about $5. Even today, I don't imagine she'd charge much more than $8 or $10 for it, if her place were still around.
So a $34 status burger? It could never measure up to the pure Burger-Nirvana I experienced in a tiny inner-city burger joint 20 years ago when nobody was even thinking beyond fast food.
Thanks, Jack, for that link. Made me all nostalgic for Henry's Gourmet Burgers. Hadn't thought about them in years. Still miss that old broad and those amazing burgers.

Posted by Mamamontezz at July 14, 2004 12:20 PM